Beware: High quality photos--slow download zone!

My apologies, but this site may not be for sightseers who only have a fast, passing intrest. Throughout the entire site there will be large photographs with many photos per page. This is needed to show how impressieve El Yunque is--but this translates out to be slow downloading unless you have a fast computer system with a fast internet hookup. The average download time for the page is around two minutes. If you are serious about seeing some quality photos of the El Yunque rainforest then this is your site otherwise you may not have the patience for the downloading.
This angle (photo below) can be seen from road #191. Go past the ranger station, Palo Colorado, and start looking off to the right for a castle or what looks like a giant misplaced rook out of a chess set. It will be way off in the distance. The first shot in the photos below is the way you see it via the naked eye. The next shot is with a 500mm lens, the third shot has a doubler on the lens making it 1000 mm. Obviously you do not make shots like these without a good steady tripod. Being a rain forest, you will have to wait a while to get a blue-sky background. If you plan your trip around the rainy season, it may take a few weeks or months.

Though it looks like a the rook out of a chess set, it is really a tourist lookout tower. To get there you hike via several hiking trails. One starts right across from the ranger station. Another starts a ways up road #191 past the ranger station. Just drive up the mountain a ways and you'll note a road taking off to the right. Drive down the road and park where all the other cars are parked (other hikers). Read the trail markers and don't get lost.

PS--This is a rain forest--never go anywhere without an umbrella and a camera.
That's it, over in the distance. That is Mount Britton and the Mount Britton lookout tower--where several of the hiking trails terminate. If you hike there, make sure you wear some gooding hiking shoes. Most of they way the trail will be gravel, dirt, and some muddy spots in the rainy months. Being so close to the Ranger station, there will be a lot of tourists on these trails--I normally don't hike there just for that reason.

The best time to hike is early morning. It is still cool and a lot of the wildlife is still out before the heat of the day comes in. Look for birds, hummingbirds, lizards, butterflys, and an occasional dinosaur.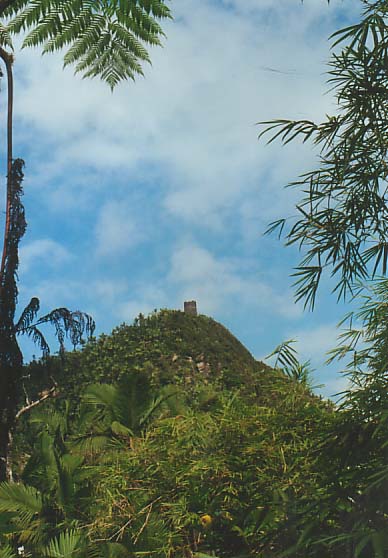 I made this shot with a 500mm lens, tripod set up on the pavement of road #191. Obviously, not much traffic comes through. As you can see, I lucked out with a blue sky background. However, it was raining 15 minutes later. Many shots like this can be made with a camera holder that attaches to the window.