You do not have to worry about bumping into one of these monsters when you go hiking--so don't be afraid to go hiking along the jungle paths--I don't think any tourist has ever seen one. They only come out at night and you have to know where to look. Look for guabas on rocky outcroppings like this adjacent to caves and rocky crevices. This one is a small one: perhaps 8-10 in. in diameter. Allegedly, they can get up to 25 inches in diameter though I have never seen them that big. The largest I have seen is around 12 inches in diameter. The body is flat. They have pincer-bearing front arms.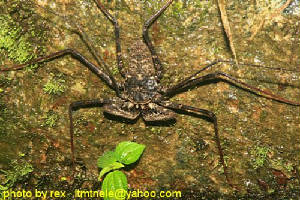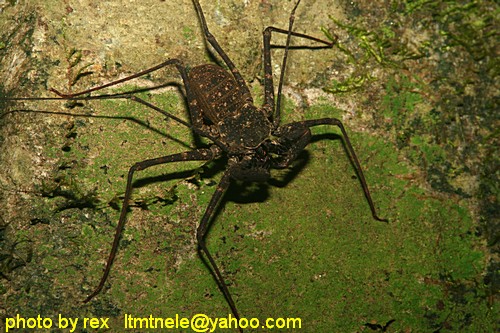 A guaba can move faster than the eye can keep with the movement. Meaning faster than the eye can see. One second they are there and the next they are gone. If you see one arcing up like this, they are getting ready to jump. This means they feel threatened and you need to leave. This one attacked the lens of the camera when I got around 6 inches from it.
Click here to see a spider video. Do you know what type of spider this is?
This is a tree trantula - it moves fast.
Another tree trantula.